Last November 20 we had David Andrés with us at Fòrum Gastronòmic de Girona and, on our return, in the middle of the closing of this event and putting on paper this interview, we heard the news of the Third Michelin Star awarded at ABaC Restaurant in Barcelona, where David is the Head Chef.
David Andrés is a young entrepreneur from Igualada who suddenly left the Architecture career and his favorite sport, Hockey, in which he had a promising future, to dedicate himself fully to the kitchen. That's nine years ago and what he has achieved in that time, gives almost vertigo.
David, what do you feel when you award the Third Michelin Star in the restaurant where you are the Head Chef?
Well, the truth is that I feel an immense joy for the whole team and especially for Jordi Cruz. I joined ABaC as an assistant when I had a Michelin star, in this restaurant I grew up, I learned and I became head chef. And achieving maximum recognition with the three stars is a great satisfaction.
Let us summarize your awards: Twice winner of the S. Pellegrino Young Chef in the Spain-Potugal region, and twice finalist in the same contest worldwide, Selected for the list "30 under 30 europe" in the field of the gastronomy of the magazine, Bib Gourmand Award of the Michelin Guide 2018 granted to your Restaurante Somiatruites, as Head Chef of the Àbac Restaurant, Third Michelin Star.
And surely the acknowledgments will not end here. What do you have in perspective? Maybe the World title of S. Pellegrino Young Chef?
In perspective I have to work well every day and make people happy in ABaC and in Somiatruites. In the medium term to grow the dream of Somiatruites with a hotel, we can already say that by 2018 it will be ready.
The contests is an experience to learn and grow as a chef, but I do not give more importance, but what really matters, I focus everything on cooking every day.
No doubt your achievements are the fruit of your work, but did you want to be the best cook? What role does ambition play in everything in this?
I am very demanding with myself. This demand leads me to overcome and constantly challenge me. For me it is very important to always learn, so this type of contest is an opportunity to improve yourself and learn from the best. The prize really is to be there cooking with professionals of the highest level. The rest will come in addition.
Although it's always nice to recognize your work and effort, of course.
What do you think young chefs should have today?
Passion for the job The kitchen demands and demands a lot. If you're not passionate, it's impossible to be a chef. And that applies to all trades, both to be a chef and to be whatever it is, you need to look for the passion to be happy when you get up every day and go to work. That's what life is about and cooking ... to be happy.
Let's talk about the hotel you're going to do with your brother. It will be in Igualada, your city...
Yes it's correct. We are going to do it in the same building as the Somiatruites.
My brother and I wanted to do something in our city and for our city; to connect with her and her people. So first we launched the Restaurant, in the REC, one of the oldest industrial neighborhoods of Catalonia and that is currently being revitalized with different cultural and commercial initiatives. A reference in Igualada.
With the restaurant already in operation, two years ago we started the Somiatruites Cooking School. It is a summer school for children from 9 to 13 years old that aims to convey the values ​​of the Somiatruites team and their passion: cooking and creativity.
And after the Restaurant and the School we wanted the Somiatruites project to continue growing, so the next step was the Hotel, which besides being the natural evolution of the restaurant will also cover an important need of the city.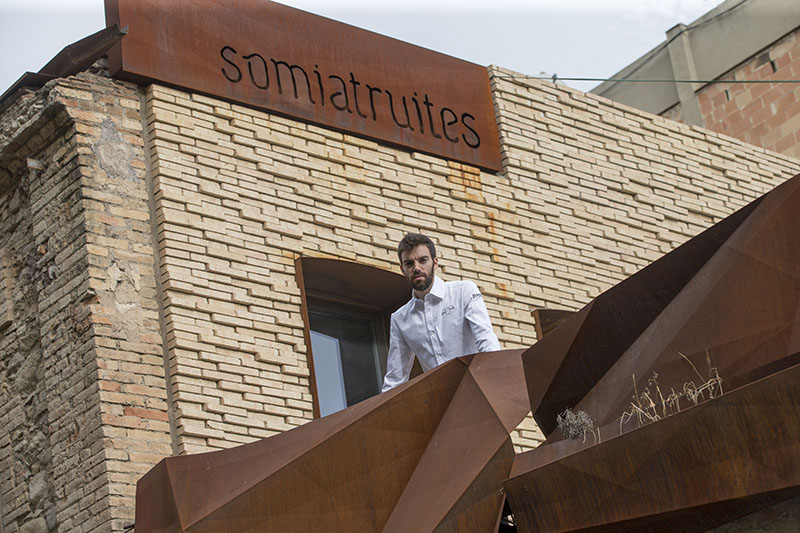 What plans do you have for this project?
The hotel will be in the same building as the Restaurant, just above. We can build 2 floors, but initially we are going to build only a first floor and see how everything develops. We want to go step by step because we have many ideas.
On the roof we will have an ecological vegetable garden that will serve us to provide the Restaurant with our own products, grown and cooked "at home". Consumption of proximity, (in this case zero kilometer, safe) own and ecological production.
Returning a moment to the cooking school that you have created, do you consider it important to involve the youngest of the house when it comes to cooking? Have you lived close to the kitchen in your house?
The truth is that I never cooked anything. Even when we lived in Barcelona, ​​my brother spent 2 years cooking for both of us! But I have to tell you that when I started to put myself in front of the stove, I discovered that in fact I already had enough "culinary culture" we could say.
There are people who take advantage of their vacations to go to visit monuments, but at home we did gastronomic tourism. When we decided to visit a specific place it was because there was restaurant X, where they cooked the best fish, for example. We made the route that we were going to make depending on the restaurants we wanted to know. And of course, behind this comes to explain how that dish is cooked, or how that food is grown ... Actually, my father is responsible for all this.
So, as you can suppose, I'll tell you that I do consider it important for children to know what is cooking and food starting at home.
We live complicated times; It has become clear to us that your PASSION is haute cuisine, but, in times of crisis, do you think it is better, laboriously speaking, to bet on something safe, or because of your passion?
Look, I abandoned my career (university and sports) to dedicate myself to something that had nothing to do and for what seemed like maybe it was not so well prepared. Neither did he have excessive resources, so it was really a risk. But I can tell you that when we talk about Passion, surely you already have talent, abilities, knowledge, things that you need to dedicate yourself to what you are passionate about, even if you are not aware of it. The key is to trust you and work hard.
I also have to tell you, to be honest, that my family has supported me at all times, which makes things easier.
But according to my experience, the Passion is the bet. And I can tell you that I am currently VERY proud to have the Somiatruites and all that this project is allowing us to do.
We are curious to know what David Andrés is like beyond the prizes. Do you cook with music? If so, with what kind of music?
Well, I never put music in the kitchen basically for two reasons. The first is because I believe in the need to make a cohesive team. I think it is important, both during the service and in the previous one, for example, that we can talk comfortably without interference, communicate well with each other to make a strong team.
The other reason is even more practical. You can know how you are cooking, not only by sight, smell or taste but also by hearing. According to what you are hearing you can know at what point is that food that you are cooking.
So, would not you mix music with different dishes? Something like the culinary Opera that the Roca brothers did ... Do you see yourself doing something like that?
It has nothing to do with it! One thing is work, the experience of the Chef and the other the experience of the diner. I find the multisensory experience that they created for the diner very interesting.
And personally I do not see myself doing something like that because now I have other projects that we have commented on.
David, we know you have little free time, but how do you like to dress when you're not in the kitchen?
You said it, I leave the kitchen a little. But when I go out I have something similar to what you see now (laughs). I'm a freaky of the T-shirts. T-shirts of food, of vegetables ... I have at least a hundred. And I always wear, inside and outside the kitchen, my green sneakers. I like to go very comfortable.
And inside the kitchen, what needs does Dyneke's wardrobe cover? What would you highlight of our uniforms?
The truth is that they are ideal for working in the kitchen.
As I have just commented, for me comfort is very important and that is exactly what I would highlight. For the fabric, the finishes ... It was something I insisted on a lot. We were talking and trying until we had the wardrobe that we now have in Somiatruites (and also in ABaC). It's a really comfortable wardrobe. Ideal.
Finally, Christmas is coming. For these dates, modern and experimental cuisine or traditional cuisine?
I like to experiment, but the dishes that are prepared for these dates, "the usual ones", are fantastic.
So, for these Fiestas, go ahead with the tradition, but above all we can be at the table with the people that really matter.